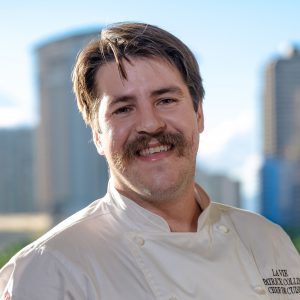 Patrick Collins
La Vie by G.Lion - Honolulu, HI
Chef Patrick Collins was born in Ventura, California. His sense of place was shaped by his younger years along the Gulf in Houston, New Orleans, and the northern seas of Norway and Scotland. After finishing school in Lugano, Switzerland, he was inspired by the Swiss-Italian culture and traveled through neighboring countries to experience the diversity of food, culture, and lifestyles surrounding him.\
Collins's culinary journey began in 2004 with a move to Hudson Valley to attend the Culinary Institute of America. Post-graduation, Collins joined Tom Colicchio's Craft Company Restaurants in New York City's Flatiron District. He spent three years working through the line learning the motions of a fast-paced NYC kitchen, and developed a passion for highlighting seasonal and local produce in his dishes.
In 2009, Collins took a position with Chef Andrew Carmellini at his premier restaurant Locanda Verde in the Greenwich Hotel. Collins continued with Chef Carmellini and joined the opening team of The Dutch, an oyster bar focusing on regional American influences, in 2011. Through the span of five years, he worked his way to become a sous chef and learned to manage the constant evolution of a large NYC restaurant.
After meeting his wife in the kitchen, Collins moved to O'ahu in 2015 with plans to start a family. Collins debuted in Hawaii's culinary scene with the opening team at Senia as their sous chef. After a few years and the birth of his daughter, Collins met Chef Shaymus Alwin and joined the G.Lion company as the Chef de Cuisine for La Vie, a French-Inspired restaurant with a modern approach to multi-course dining.
Chef Patrick Collins continues to carry his passion for genuine hospitality and hopes to share the best of what is produced locally through the La Vie experience.