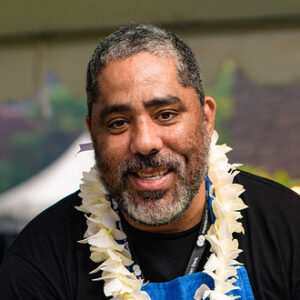 Nikolaos Lobendahn
Over Easy - Kailua, HI
Born and raised in Hawaii, Chef Nikolaos Lobendahn learned how to cook with his years spent at award-winning and Michelin-starred restaurants including Alan Wong's – Honolulu, Clio – Boston, Ame – San Francisco and Campton Place – San Francisco.
In 2016, after years of planning and saving, Lobendahn opened his dream restaurant Over Easy on the Windward side of Oahu. Over Easy is a modern brunch concept featuring local flavors. Dishes like the Potato N' Eggs & Kalua Pig Hash are one of a kind and truly make Over Easy a special neighborhood restaurant.
Since opening Over Easy, Nikolaos Lobendahn has developed an Aloha American BBQ Concept called Easy 'Que, also located in Kailua. He just recently opened a new bakery alongside Over Easy, which features daily baked goods and grab-and-go ready made beach/picnic items.