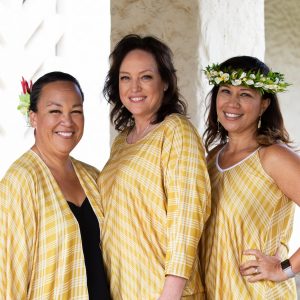 Na Leo
Honolulu, HI
Na Leo is the most popular, most award-winning and biggest selling female Hawaiian group in the world. Na Leo consists of three childhood friends, Nalani Jenkins, Lehua Kalima and Angela Morales. These three Hawaiian women run their own record label; compose, record and perform music; they do volunteer work; play sports and they're moms. They are real women with real lives sticking close to their ideals and putting their friendship first.
Na Leo had their first hit as seniors in high school at Kamehameha Schools when they entered Hawaii's talent contest, "Brown Bags to Stardom" in 1984 with their original song, "Local Boys." The 45 single became the biggest selling single in Hawaii history. Later that same year, they put out their first hit album, also entitled "Local Boys." In 1993, they released "Friends," another Na Hoku Hanohano-award winner and a huge hit.
Over their career they started their own record label, signed with Sony Music Japan in 1996, released 24 albums, won 23 Na Hoku Hanohano Awards, topped music charts and made music that's become part of our lives.
Today, the trio continues to perform to sold out crowds in Japan, Hawaii and the mainland U.S. In 2019, the group celebrated their 35th Anniversary.
With a signature sound that reflects their name, the trio shares the spirit of Hawaii through their unique blend of Hawaiian contemporary and pop music. Their original name, Na Leo Pilimehana, was given to them by Holoʻua Stender, their music and hula teacher at the Kamehameha Schools in Honolulu in 1983. In Hawaiian Na Leo PIlimehana means "The Voices Blending In Warmth". Later, over time, the name was shortened to "Na Leo" simply meaning "The Voices". It's their belief that the naming of the group was a defining moment in their career. their style was then, and always will be, soothing, melodic voices-harmonizing and uniting in warmth.
Na Leo released its most recent album in 2018 called "Beautiful Day" which won "Contemporary Album of the Year" in 2019. Na Leo has released new music and won Na Hoku Hanohano Awards in each of the past four decades ('80s, '90s, '00s, '10s) and they still have more music to make for this coming decade!