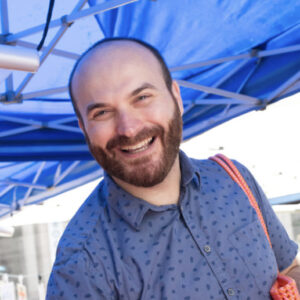 Miro Uskokovic
Gramercy Tavern - New York, NY
Miro Uskokovic is the Pastry Chef of Gramercy Tavern.
Uskokovic was born and raised in the small-town of Vrbas in Serbia. He grew up on his family farm, where his mother had a small cheese and cake-making operation. At seventeen, he came to the United States for the first time as part of a high school exchange program in Greentown, Indiana. After returning home to Serbia, he attended a hospitality college in Novi Sad.
In 2006 Uskokovic relocated back to Indiana, where he nurtured his love of baking, working with Pastry Chef Andrea Kirkpatrick in her shop Pastry Diva in Greentown, known for modern American cakes.
In 2008 Uskokovic enrolled in The Culinary Institute of America, where he received an Associate's Degree in the culinary program in early 2010. While completing his externship in the savory kitchen at Wallse, Chef Kurt Guterbrunner's flagship restaurant, he met Jean-Georges Pastry Chef Johnny Iuzzini, who offered him the opportunity to train as his production intern during his days off. After completing his program at the CIA, he returned to Jean-Georges as a pastry cook. Within a year and a half, Uskokovic had become the Pastry Sous Chef at Jean-Georges, working first under Iuzzini and then Pastry Chef Joseph Murphy.
After his time at Jean Georges, Miro Uskokovic was named the Pastry Chef of Aldea, Chef George Mendes' Flatiron restaurant. In the fall of 2013, he became the Pastry Chef of Gramercy Tavern. In spring 2015, he was also named the Pastry Chef of the new Untitled restaurant at Whitney Museum.
Uskokovic's work was recognized by Dessert Professional Magazine who named him one of the Top Ten Pastry Chefs in North America in 2015. He was also nominated for a prestigious James Beard Award in 2020, Outstanding Pastry Chef category. His work was also recognized by many media outlets like Saveur, Bon Appétit, Bake from Scratch, New York Mag, Life and Thyme, Eater, Food & Wine and Pastry Arts Mag, just to name a few. His work was praised in both Untitled and Gramercy Tavern New York Times reviews by Pete Wells.
Uskokovic's contemporary American desserts are created out of a collection of personal memories and experiences, as well as influences from other cuisines.