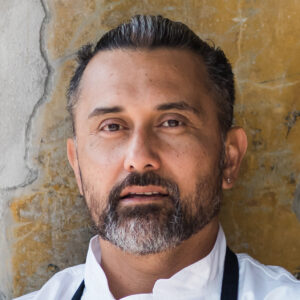 Michael Meredith
Mr Morris Eatery - Auckland, New Zealand
Michael Meredith was born in the South Pacific island-nation of Samoa. He grew up watching his mother cook for her pancake stall in the market of the capital city Apia. Though pancakes are far from the elegantly innovative cuisine of Meredith today, the chef still credits his mother and Samoan upbringing for laying a foundation for his no-waste culinary philosophy.
Meredith enrolled at Auckland University of Technology on scholarship and his passion for food and cooking was born. He went on to school at The Culinary Institute of America for several weeks and then staged at several top-notch Manhattan restaurants, including Montrachet, March, and Gramercy Tavern, also working in Melbourne and Sydney before returning to Auckland.
Meredith worked his way through the best of Auckland's kitchens: Antoine's, Vinnies, and then as the founding chef of The Grove. In 2005, while at The Grove, Meredith won the Lewisham Award for Outstanding Chef.
In September of 2007, Meredith opened his eponymous restaurant in the Mt. Eden, Meredith's. A slew of awards for the sophisticated and intimate Mt Eden fine dining restaurant followed including the 2008 Metro Best New Restaurant Award and 2009 Metro Audi Restaurant "Supreme Winner" Award, 2011 Cuisine Restaurant of the Year Award, Outstanding Chef of the Year Awards.
In 2015, Eat My Lunch launched with Lisa King and Meredith championing the daily running of the social enterprise business with a buy one, give one model that has effected social change by providing kids in schools with free lunches.  Meredith worked tirelessly on this passion project most mornings before heading to his restaurant. It was this project, as well as the $340,000 raised through Meredith's Dine by Donation nights that would see him awarded the 2017 Queens Order of merit for services as a restaurateur and to philanthropy.
Michael Meredith closed Meredith's after 10 years of operation to spend more time with family and to focus on his passion projects including continuing his ambassador role for Miele, a role held since 2013.
In 2019 Meredith was part of the Restaurant Association of New Zealand's mental health wellness working group, set up to understand the scale and scope of the issue in New Zealand. Meredith opened his new venture, Mr. Morris, in the Britomart Precinct in mid-November 2020 also reinvigorate the monthly "dine by donation" evenings, supporting four charities a year, starting with the Starship Foundation.