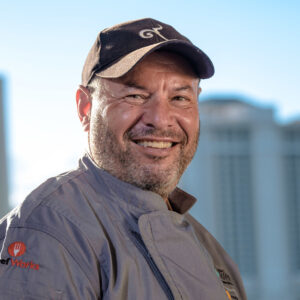 Michael Ginor
Hudson Valley Foie Gras & Restaurant LOLA - Great Neck, NY
Michael Aeyal Ginor's eclectic Mediterranean restaurant Lola is hailed as one of Long Island's best dining experiences. It received top ratings from the New York Times and Newsday, which described the restaurant as "brilliant, volatile, high rise" and the equivalent of "shooting stars."
In 2011, Michael Ginor was a nominee for Food & Wine magazine's People's Award for Top Ten Chefs in New York and he received Food Art's Silver Spoon Award.
Ginor is also co-founder and chef of Hudson Valley Foie Gras (HVFG), which received the 1996 Award for Excellence from the James Beard Foundation. He was honored with the 1997 Angel Award from the James Beard Foundation for dedication, contribution, and foresight and in 1998 Michael received the "American Master Taster Award" from the American Tasting Institute.
Also a talented writer, Michael Ginor is a food and travel contributor to such publications as Food Arts Magazine, James Beard Magazine, Art Culinaire, Coffee & Cuisine, Singapore's Cuisine Scene and Great Britain's Great Hospitality. His internationally acclaimed cookbook Foie Gras…A Passion is a comprehensive reference book that includes 84 recipes.