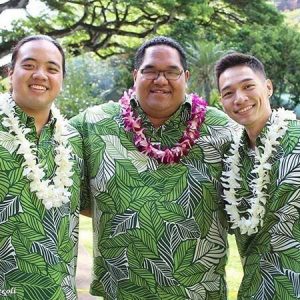 Keauhou
Honolulu, HI
Keauhou finds passion and joy in the performance, preservation, and perpetuation of traditional Hawaiian music.
The name, "Keauhou," was suggested by Hailama Farden, while the trio played music at the Kamehameha School's Midkiff Library. This library is home to the waʻa (Hawaiian canoe) named "Makani Hou o Keauhou," under which the group performed. Translated as "the new wind of Keauhou," this waʻa became the inspiration for the group name, "Keauhou." While the Hawaiian language offers a multiplicity of meanings and translations, the group's name can be translated as "the new/renewed generation."
This name defines the young trio, Kahanuola Solatorio, and brothers, Nicholas and Zachary Lum, as they strive to bring forth inspiration from Hawaiian music of the eras preceding them, and contribute to a renewed respect and interest for the incomparable beauty of traditional Hawaiian music.
These three graduates of the Kamehameha Schools Kapālama found their musical roots through their involvement in the many musical and cultural opportunities offered at the Kamehameha Schools. They sang in the Concert Glee Club, played in the Warrior Marching Band, and both Lum brothers held the esteemed positions as their class' student director in the world-renowned Song Contest.
Kahanuola, Zachary, and Nicholas have all graduated with their Master's Degree in the fields of Education, Ethnomusicology, and Hawaiian language, respectively, at the University of Hawaiʻi at Mānoa. All three are active and passionate educators and cultural practitioners in their fields.
In 2008, Keauhou was awarded first place in the unamplified traditional Hawaiian music contest, "Ka Himeni Ana," held annually at the Hawaiʻi Theater. In 2017, Keauhou took top honors at the Nā Hōkū Hanohano awards attaining nine awards in nine categories for their debut album, "Keauhou." Their second album entitled, "I ke Kō a ke Au," features seven original compositions and eight traditional mele Hawaiʻi and received five additional Nā Hōkū Hanohano awards in 2018. Completing the trilogy of albums, "Ua Kō, Ua ʻĀina" received three additional Nā Hōkū Hanohano awards in 2019. All albums are available on all digital platforms and at many fine retailers throughout Hawaiʻi.
Kahanuola, Nicholas, and Zachary are truly thankful for the many opportunities and honors with which they have been blessed as well as the many more to come. With the relationships between them and the guidance of akua, kūpuna, ʻohana, and kumu alike, the members of Keauhou hope to offer a seemingly-new sound to the Hawaiian music scene, inspired by those who have come before. E koʻolau ke kō a Keauhou!