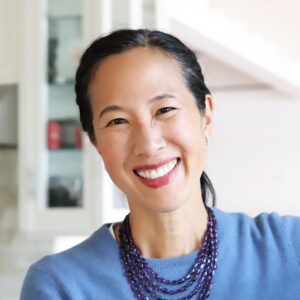 Joanne Chang
Flour Bakery+Cafe/Myers+Chang - Boston, MA
James Beard Award-winning chef Joanne Chang is the pastry chef and co-owner of Flour Bakery, and the co-owner of Myers + Chang.
Chang opened the first Flour bakery in 2000. 20 years later, she now operates nine Flour bakeries and sister restaurant Myers + Chang in Boston/Cambridge with her husband and business partner Christopher Myers. Chang, Flour, and Myers + Chang have garnered local and national recognition from Gourmet, Food & Wine, Bon Appétit, the New York Times, the Food Network, Conde Nast Traveler, Inc. Magazine, O Magazine, Boston Magazine, and the Boston Globe.
She is the author of five cookbooks, teaches and advises local pastry cooks, serves on the Board of Directors for Share our Strength as well as Brookline Bank. In Spring 2020, Joanne Chang launched an IGTV series Flour Love (#flourlove) on instagram featuring a collection of baking kits with baking demonstration videos. In 2021, she appeared as a judge on the first season of Netflix's TV show Baking Impossible and launched a 30-day baking session on the online platform, MasterClass.