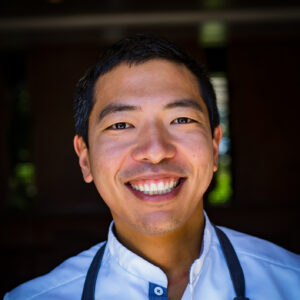 Jeffery Hayashi
Regiis Ova Caviar & Champagne Lounge - Yountville, CA
Jeffery Hayashi, originally from Honolulu, Hawaii, moved to Arizona at age four and spent the bulk of his upbringing on the mainland. Fortunately for him he had the opportunity to visit his grandparents every summer break manifesting his appreciation for the culture and natural beauty that Hawaii has to offer.
Hayashi's first introduction into the culinary profession was with French-Australian Chef Philippe Padovani, who had made a name for himself in Hawaii. Hayashi worked as an apprentice for Chef Padovani for a year and a half before moving to Vintage Cave as a commis. This was where he was introduced to the world of caviar, truffles, wagyu, and a sense of seasonality.
In 2014, Hayashi joined the opening team for Chef Mourad Lahlou's new restaurant in San Francisco, Mourad, where he worked his way up to Executive Sous Chef over the course of four years. During that time, the restaurant earned one Michelin star, among other awards and accolades for its Moroccan fine dining cuisine.
After his time at Mourad, Hayashi decided to pursue his dream to represent the USA in the world's most prestigious culinary competition, the Bocuse d'Or. In 2019 he won the American National Selection to secure his spot as the Chef Candidate for Team USA.
In 2022 the USA won Gold in the Americas Continental qualification. This would secure their spot in the finals that would take place in Lyon, France. Team USA took ninth out of the twenty-four countrie