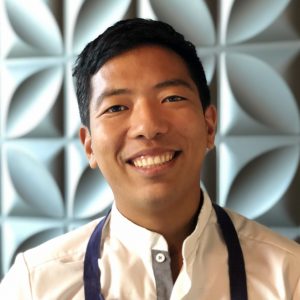 Jeffery Hayashi
Restaurant Madera at the Rosewood Sandhill Hotel - Menlo Park, CA
Chef Jeffery Hayashi is Chef de Cuisine of the acclaimed Restaurant Madera at the Rosewood Sandhill Hotel in Menlo Park, California.
Hayashi, originally from Oahu, moved to Arizona at age four and spent the bulk of his upbringing on the mainland, though visited his grandparents in Hawaii throughout his childhood. While culinary arts were not his passion in his formative years, he spent his time focused on building, art, and creating things with his hands, which led him to study architecture at Arizona State University.
After realizing that architecture was not his path, Hayashi serendipitously was introduced to French-Australian Chef Philippe Padovani, who had made a name for himself in Hawaii. Padovan, who had learned cooking by fire in the kitchen, encouraged Hayashi to come and work for him as an apprentice, as he opened his namesake, Padovani Grill.
Hayashi, who had never worked in a kitchen before but liked hand crafts, worked for Padovani as an apprentice for a year and a half before moving to Vintage Cave as a commis. In 2014 Hayashi was a part of the opening team for Restaurant Mourad in San Francisco. He worked his way to Executive Sous Chef over the four years. The restaurant earned one Michelin star the first year it was open and has retained the star ever since.
In November 2019 Hayashi won the USA National Selection for the Bocuse d'Or in 2021. Due to Covid Team USA withdrew from the competition and he will represent the United States as Team USA at the Bocuse d'Or 2023 competition, the renowned biennial international culinary competition in Lyon, France. Currently Hayashi is working with Chef Robert Sulatycky, to reopen Restaurant Madera at the Rosewood Sandhill Hotel in Menlo Park, California.