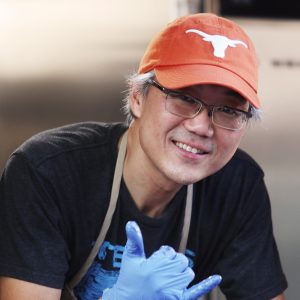 James Kim
Sunset Texas Barbecue - Honolulu, HI
James Kim's earliest memories of barbecue started in Coppell, Texas, where growing up, many family backyard shindigs were shared with friends and neighbors.
After a decade of working for a well-known international company in Austin, Texas, as a project manager, Kim moved to Hawaii, his wife's home state, to be closer to his wife's family. Aching for some Texas barbecue but not quite finding the type of Texas pit smoked barbecue in his new home, he set up shop with custom built smokers brought in from Texas to specifically craft the same delicious central Texas style barbecue to share the same authentic taste and experience of his home state with the folks in Hawaii.
Applying his engineering background as well as using time honored Texas techniques, Kim labors the long low and slow smoking sessions that central Texas craft barbecue is known for to create that delicious, melt in your mouth, mouthwatering goodness brisket, ribs and various smoked meats.
Started more as a hobby when opening his barbecue truck at the lot of Sunset Beach Texaco in the famous North Shore of Oahu, James eventually moved his operations to Wahiawa and now to Kakaako Honolulu beginning August 2021.