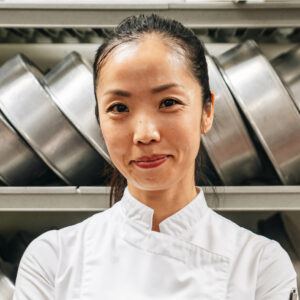 Helen Hong
CanoeHouse Mauna Lani, Auberge Resorts Collection - Waimea, HI
It wasn't always Helen Hong's intention to pursue baking. In fact, around the age of ten, she cultivated her passion for savory cooking with her grandmother in South Korea. After moving to the United States in high school, Hong began her culinary journey in 2007 at Providence, a Michelin-star restaurant in Los Angeles, California. While preparing dishes, she also assisted with the pastries and desserts, kickstarting her transition from cooking to baking. In 2008, Hong worked at the Peninsula Hotel in Beverly Hills, where she delved into pastry-making and desserts. Soon after, she moved to Chicago, where she attended the French Pastry School and subsequently worked at the Four Seasons Hotel for eight years.
After moving to Oahu in 2016, Helen Hong mastered her craft as the Executive Pastry Chef at the Four Seasons Resort Oahu at Ko Olina. Four years later, she and her husband (also a chef) relocated to the Big Island—and the rest is history.
Transitioning from South Korea to Los Angeles to Chicago, Helen Hong says she had never imagined living in Hawaii. "I never thought I would live in Hawaii, ever. I grew up in South Korea, which is a small big city, and moved to L.A., which is a big city, and then Chicago is a huge city. Who would have thought I'd be in such a countryside on the Big Island?" Drawing on the abundance of fresh and local ingredients, Hong enjoys working with classic tropical flavors like mango and coconut. In addition to flavor-matching her desserts, she takes pride in perfecting the appearance of her dishes—"making things pretty," as she puts it. Her most memorable dish? A flourless chocolate cake with coconut lime sorbet, complete with dehydrated chocolate and lime foam.