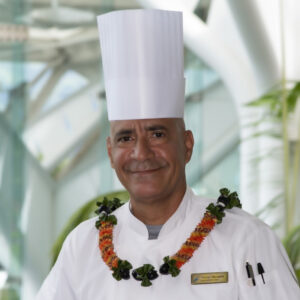 Hector Morales
Hawaii Convention Center - Honolulu, HI
Hector Morales is the Executive Chef of the Hawaii Convention Center.
Morales has 25 years of culinary leadership experience in Hawaii. He most recently served as the chef de cuisine at Mauna Kea Beach Hotel on the Island of Hawaii. He also founded a food service consultancy, working with well-known restaurants in Hawaii and Nevada.
Morales previously served as the executive chef at the Polynesian Cultural Center for eight years, overseeing culinary and food services for thousands of guests daily across luaus, restaurants and concessions. He started his Hawaii career at Oahu's Turtle Bay Resort, where he was executive chef for 16 years, managing the resort's three restaurants, as well as the culinary operations for a variety of large-scale events. Morales also advised food and beverage teams at Turtle Bay Resort partner properties throughout the country.
In addition, Morales has extensive international experience. He worked as a chef at the SAS Norway and as the banquet chef for the King of Norway. He also worked as chef de cuisine at The Regent Sydney in Australia.
Hector Morales is a graduate of the Johnson & Wales University Culinary Arts program. His achievements are recognized by the James Beard Foundation and Confrérie de la Chaîne des Rôtisseurs.