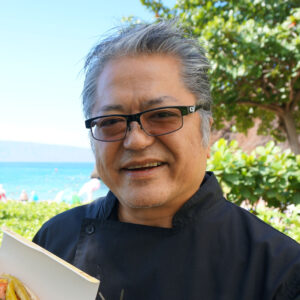 Hank Adaniya
Hank's Haute Dogs - Honolulu, HI
Henry Adaniya's switch from fine dining to hot doggery was anything but conventional. Born in Los Angeles, Adaniya grew up in Chicago where he created a legacy as owner of the renowned Mobil 5-Star Restaurant Trio (1993-2006).
At Trio, he mentored top chefs including Chef Grant Achatz of Alinea and Next, Food Network Star Gale Gand, Shawn McClain of Sage Las Vegas and Top Chef contender Dale Levitski of Sinema Nashville.
To realize another lifelong dream, Adaniya returned to his family's roots in Hawai'i and opened Hank's Haute Dogs in 2007. Innovative creativity and unique vision are Adaniya's trademarks as he once again turned ordinary into extraordinary.
Now as "Hank," Adaniya set precedence by creating a fast food eatery of impeccable quality, creativity, and service. Hank's Haute Dogs entertain the palate with playful yet well-composed flavors to offer classics, like the Chicago Dog and bacon-wrapped Fat Boy to the more exotic lobster, Kobe beef, alligator, and buffalo. Adaniya also adds a bridge to his fine dining past with creations such as the Beef Fat Fries pommes frites style, Truffle Mac n Cheese, Tahitian Crème Brulee, and Hibiscus Lemonade.
Hank's Haute Dogs was named in Bon Appetit's "Best New Places for Hot Dogs" list. In addition, Gayot placed it in its Top Ten Hot Dog Places list and the hot dog joint has been aired on Diners, Drive-In and Dives; Man vs. Food Nation; and Unique Eats.