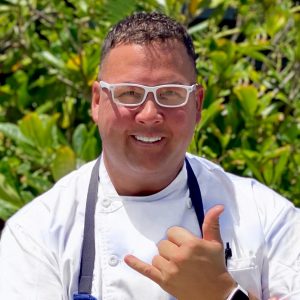 Graham Elliot
Polynesian Cultural Center - Laie, HI
Graham Elliot, a self-described "navy brat," has traveled the world and all 50 states, sparking an intense interest in food which led him to attend Johnson & Wales University.
In 2004 Elliot was named one of Food & Wine Magazine's "Best New Chefs" and at age 27, went on to become the youngest chef in the United States to receive four stars from a major publication (Chicago Tribune, Chicago Sun Times). His creative fine dining work at Avenues at the Peninsula Hotel also earned him three James Beard Award nominations.
In May 2008, he opened his eponymous restaurant, which went on to be awarded two Michelin stars, one of only fifteen in the country. The same year, Elliot earned a spot on Crain's Chicago Business List of "40 Under Forty", putting him in an elite club that included luminaries such as Oprah Winfrey and President Barack Obama for whom Elliot had the privilege of cooking on the President's 48th birthday.
In 2009, Elliot appeared on the TV show Top Chef Masters, cooking for the Heart and Stroke Foundation. In 2010, the series Masterchef premiered, with Elliot as one of the three host judges. In 2013, the series spun off a child version of the program Masterchef Junior on which Elliot also was featured as a judge. After ten seasons working side by side with Gordon Ramsay, Elliot departed to become a judge of Top Chef.
In 2012, Graham Elliot was named Chef of the Year and inducted into the Chicago Chefs Hall of Fame. Additionally, Chicago Mayor Rahm Emanuel proclaimed September 19 "Graham Elliot Day" in the city of Chicago.
Since February 2018, Elliot continues to operate his first restaurant project in Asia, Coast at MGM Cotai. Elliot has also worked as the Culinary Director of Lollapalooza—a three-day music festival in Chicago—overseeing the food offering for 100,000 concert goers daily as well as cooking backstage for headlining performers such as Eminem, Radiohead, Outkast and Soundgarden.
Elliot can be seen as a judge on PBS' "The Great American Recipe."