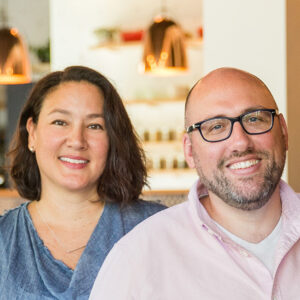 Gabi & Greg Denton
Ox Restaurant - Portland, OR
Chef Greg Denton was born in Schenectady, New York and raised in Rutland, Vermont. He knew he wanted to be a chef from age four and started working in kitchens at age nine. Chef Gabrielle Denton's passion for food developed at a young age as well, during summers spent in her grandmother's kitchen in the Andean highlands of Ecuador.
Both Greg and Gabrielle graduated from culinary school with honors, Greg in 1996 from The Culinary Institute of America in Hyde Park, New York, and Gabrielle in 1999 from the California Culinary Academy in San Francisco.
Together, the two chefs opened the Argentine-inspired Ox Restaurant in April 2012, and their new Parisian-style French bistro, Bistro Agnes, in January 2018 in Portland, Oregon. Bistro Agnes was recognized as The Oregonian's Top Ten Best New Restaurants in 2018. The Denton's also released their debut cookbook, Around the Fire, in March 2016 to critical acclaim.
At the helm of Ox Restaurant, which serves Argentine-inspired Portland food, The Denton's have received the following accolades: Top 50 Best New Restaurants by Bon Appétit Magazine, 2012 Portland Restaurant of the Year Award by Eater.com, 2013 The Oregonian's Restaurant of the Year, 2014 Food & Wine Magazine's Best New Chef and 2017 winners James Beard Foundation: Best Chef Northwest.