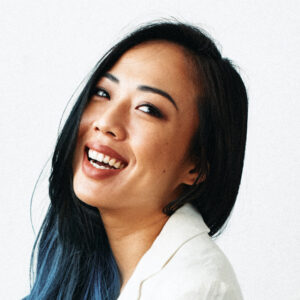 Faye Chen
Double Chicken Please - New York, NY
Faye Chen is Co-Founder, Manager and Bartender at Double Chicken Please, an upcoming bar on New York's edgy Lower East Side. Together with fellow bar ace, GN Chan, the duo has created an ingenious cocktail program based on the concept of "hacking design," where cocktails are deconstructed then reassembled in new, playful and creative ways. At Double Chicken Please, the drinks are inspired by food and the food is inspired by drinks, creating surprising, delightful and unexpected sensory experiences.
Chen, a 12-year industry veteran and winner of the Bacardi Legacy China Cocktail Competition, is responsible for every aspect of the bar, including management and will be behind the stick several shifts a week. The duo views Double Chicken Please as a kind of design studio and a magnet for creatives from different fields. The bar will push the envelope in forging experiences and exceptional hospitality that inspire guests and even make them laugh.
Born and raised in Tainan, Taiwan, Chen was immersed into Taiwan's newly-emerging craft cocktail scene in 2012 when she joined the team at Hide Bar in Zhongli, Taoyuan. Having exhausted the bar scene in Taiwan, Chen found her way to Shanghai as Bar Manager for the newly opened Speak Low. As Bar Manager, Chen's responsibilities extended beyond making drinks, including leading a highly diverse team from all over the world, curating the guest experience, hosting major events and overseeing collaborations with spirits brands. In its second year of operating, Speak Low received its first World's 50 Best Bars Award.
On the road to open Double Chicken Please, Faye Chen and her business partner have operated mobile bar pop-ups across the country in a converted 1977 Volkswagen T2 Westfalia minibus. Covering 10,000 miles and dispensing 1,200 creative cocktails, their pop-ups have been seen in Miami; Columbus, Ohio; Nashville, Tenn.; New Orleans; Houston; Austin, Texas; Los Angeles; San Francisco; Atlanta, and Las Vegas.