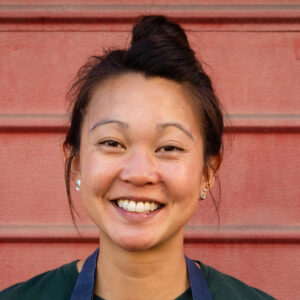 Erika Chan
Rustic Canyon - Santa Monica, CA
Born in Mountainvew, California and primarily raised in Lexington, Massachusetts, Erika Chan sparked a curiosity for cooking at a young age, as her family's life was always centered around food. She picked up baking early and would regularly bake for friends, sports and special occasions. In school, her science projects were mostly food-based, whether it was studying gluten development in pie dough with a vodka vs. water experiment or researching the ability to taste different types of foods and detect flavors without smell.
Chan melded her passion for the culinary arts with her love of science by pursuing a degree in Nutritional Sciences and Dietetics at the University of California, Berkeley. During summer breaks, she interned at Mayfield Bakery in Palo Alto, working under Nancy Pitta (Hawthorne Lane, Boulevard) and learning all the fundamentals of baking. Chan graduated magna cum laude in 2013 and was matched with a year-long internship at the renowned Massachusetts General Hospital in Boston, where she earned certification as a Registered Dietician in 2014. Her passion for pastry ultimately won out, and she worked at various Boston restaurants like Menton and Asta as a Pastry Cook before landing at the James Beard-awarded L'Espalier in May 2014.
Setting sights on the Midwest's burgeoning dining scene, Chan moved to Chicago in November 2016, landing at the Michelin-starred Acadia. In June 2017, she secured the highly sought-after position of Pastry Sous Chef at James Beard Award-winning Chef/Partner Paul Kahan's The Publican. Working under the tutelage of two-time James Beard-nominated Pastry Chef Dana Cree, she honed her craft of artful plating and deconstructing flavor profiles, advancing quickly through the ranks of the nationally-acclaimed restaurant and its One Off Hospitality group. In March 2018, she became the Executive Pastry Chef at not only The Publican, but also Publican Quality Meats and Café Cancale.
With the global, COVID-19 pandemic in 2020, the downtime at the restaurants gave Chan time to think and re-evaluate her next career move. That October, she partnered with former Publican colleague and Chef de Cuisine Sieger Bayer on a wholesale bakery project, called Brite Donuts and Baked Goods.
In May 2021, Erika Chan joined the Michelin-starred Rustic Canyon as Pastry Chef. With the famous Santa Monica Farmers' Market mere blocks away from the neighborhood restaurant, she was invigorated and found a constant source of inspiration with all the micro-seasons and vast biodiversity represented. Her efforts quickly garnered the attention of Michelin, earning her the first-time recognition as one of two "Outstanding California Pastry Chefs" in September 2021.