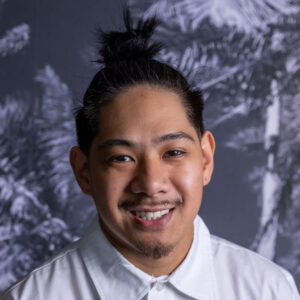 Dexter Mina
WOVEN - Tacoma, WA
Dexter Mina was born and raised on the Island of Oahu. He attended Kapiolani Community College and earned an Associates in Culinary Arts. During his time at KCC he worked at a popular local breakfast spot, before interning at Roy's The Original in Hawaii Kai. This is where Mina learned how to cook and refine his skills in Hawaii Regional Cuisine.
After years of learning, he became the Executive Sous Chef in Hawaii Kai and learned what it is to be a chef. While working with Roy's, Mina was able to help assist in opening Eating House 1849 in Kapolei as well as Eating House in the Cayman Islands.
After working with the company for nearly a decade, Mina decided to pack his things and head to the Pacific Northwest to explore more of my skills. There he worked at restaurants that focus on Italian flavors, cooked with the fresh local produce in the area, and learned what seasonal cooking is all about.
In his free time, if not eating at new restaurant, you can find Mina at home cooking and testing recipes.