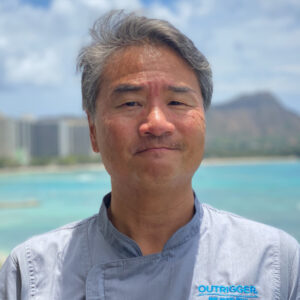 Dean Kamiya
Kani Ka Pila Grille - Honolulu, HI
Dean Kamiya has worked in food and beverage since high school—from cooking plate lunches to washing dishes to bussing tables. Most recently and since 2007, he was executive chef at Ala Moana Hotel by Mantra and before that, he was chef de cuisine at Ilikai Hotel.
Kamiya, who attended the culinary arts program at Kapiolani College and Leeward Community College, shared that on-the-job training was key to his culinary growth. He enjoys and is challenged by pushing the envelope to create something better.
Dean Kamiya is in the perfect field, as he admits he loves to eat. He also enjoys spending time with his friends and family—teaching his daughter, Kaitlyn how to cook.