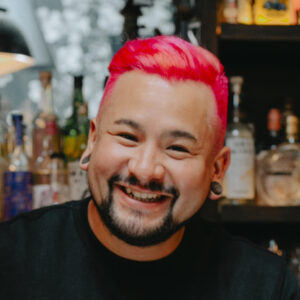 Christian Suzuki
Bell Tree Hospitality - San Francisco, CA
Christian "Suzu" Suzuki-Orellana is from the San Francisco Bay Area but grew up in Tokyo. Born into the restaurant industry-his grandparents owned and operated a small restaurant company that consisted of four restaurants, a cocktail bar, and a ranch that sourced all of the business' produce. Suzu would travel to Japan twice a year starting at the age of 12 to learn about hospitality, food, and management under the tutelage of his grandparents.
Whether behind the bar (most notably at 15 Romolo, Tradition, Benjamin Cooper, and Wildhawk) or at cocktail competitions, he strives to take the lessons learned from them and adapt them to his everyday work, as his creations are heavily inspired by memories, flavors, and dreams of Japan. In 2020, Suzu launched Kagano Pop-Up, featuring cocktails with influences from Japan and El Salvador with a focus on community and philanthropy.
Suzu's career highlights include becoming a National Finalist for Bacardi Legacy (2018), Bombay Sapphire's Most Imaginative Bartender (2020), and one of Punch's Bartenders in Residence (2021); being featured on Imbibe Magazine's Imbibe 75 list (2022) and nominated for Tales of the Cocktail Foundation's Bartender of the Year (Top 10, 2022 & 2023). Most recently, he was featured as a competing bartender on the hit Netflix show, Drink Masters (2022).