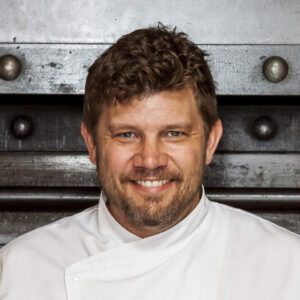 Ben Ford
Ford's Filling Station - Culver City, CA
Chef Ben Ford, renowned master chef and restaurateur, is known for his creative technique and inspired dishes. He also possesses an innate understanding of the ingredients in his dishes—dishes that celebrate the cycle of life and the bountiful freshness of the earth.
In 1987, Ford's epicurean journey began after he left the University of Southern California to study at the University of Dijon—in the heart of Burgundy, France. Inspired by the Slow Food Movement of Europe, he returned to the States to study culinary arts at the California Culinary Academy in San Francisco. That same year he joined Alice Waters, one of the country's finest organic chefs, at the famed Chez Panisse in Berkeley, California.
In 1993, Ford returned to his hometown of Los Angeles and earned his kitchen stripes at three distinguished Los Angeles restaurants: Opus in Santa Monica, as Sous Chef for Eberhard Mueller; Campanile, alongside chefs Nancy Silverton and Mark Peel; and Chadwick, where his seasonal California-Mediterranean menu earned him rave reviews and national acclaim, including a coveted Three and a half stars from the Los Angeles Times.
In 2004, Ford decided to return to a more basic approach. Ford's Filling Station in Culver City was the first regional American "gastropub" on the West Coast, helping to introduce the concept to the United States. In October 2013, Ford's Filling Station opened its second location in the LAX Delta Terminal, followed by a third location at the Marriott LA Live in November 2014. This year Ford's Filling Station will celebrate its 18th year in business and remains relevant as one of LA's most beloved institutions.
In 2013, Ford was honored by being part of the newly-created American Chef Corps, a program of the US Department of State—serving on missions to Hong Kong, Israel, Uruguay, the Republic of Georgia, Turkey, and Canada.
During the pandemic, Ford partnered with Doorstep Market to launch of Southland Doorstep Market, a highly curated e-commerce site for local artisans. This year, Ford will open a new restaurant in Nashville, Tennessee—The Electric Jane—with partner Jason Scoppa.
A father of two and devoted family man, Ben Ford makes time for several charitable culinary events each year and devotes time to the LA Mission, which strives to be a world leader among missions that provide for the poor, restore the addicted, and reduce homelessness.
He is Food Network Challenge Champion and Cochon 555 winner and has appeared on Iron Chef America, Today Show, Martha Stewart, The View, The Talk, Katie Couric Show, Beat Bobby Flay, After Hours with Daniel Boulud, Jaime Oliver's Food Revolution, Bizarre Foods with Andrew Zimmern, Supper Club with Tom Bergeron and more.