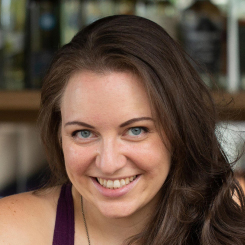 Ash Haussermann
Ashley Haussermann (she/her) is a seasoned head bartender that has graced the planks of notable bars such as Clover Club, Boulton & Watt, and Mother's Ruin in New York City. She's been in the industry for about 12 years from Seattle, Washington to Austin, Texas, and finally to New York, making a few stops along the way throughout Canada & Mexico.
Haussermann was an opening bartender at both Garage and The Roosevelt Room in Austin, and also opened BlackTail at Pier A for the Dead Rabbit company in 2015. In addition, she has worked stints at other notable New York City cocktail bars including Dear Irving and The Django at The Roxy Hotel. Haussermann is also involved in Speed Rack every year, and competed nationally earlier this year to be named one of the fastest female craft cocktail bartenders in the United States.
Ashley Haussermann is originally from Vermilion Bay, Ontario but relocated to the United States when she was a teenager. She started bartending in Seattle at age 24 for the legendary J&M Cafe & Cardroom in Pioneer Square in Austin, participating in multiple competitions, but specifically Speed Rack, had a huge influence on her technique and knowledge base and eventually pushed her to make the move to New York.
Today Haussermann splits her time between bartending and LGBTQ+ activism. When she's not slinging drinks, you'll definitely find her singing her heart out in a karaoke bar somewhere or planning an adventure with her husband, Chris.