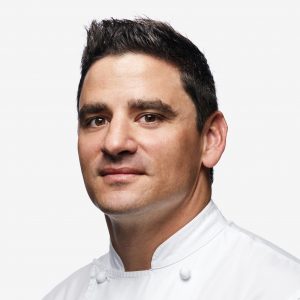 Anthony Secviar
Protégé - Palo Alto, CA
Anthony Secviar, Chef/Partner of Protégé in Palo Alto, honed his culinary skills in many of the world's most renowned kitchens.
A graduate of the California Culinary Academy, Secviar's passion for food and culture has lead him across the globe, cooking and eating in over 12 countries throughout his career.
After spending the 2005 season working under iconic Chef Ferran Adrià, at the groundbreaking El Bulli in Spain, Secviar returned to the states to work under revered Chef Thomas Keller at The French Laundry. Following a 6 year tenure, Secviar left Napa to become the Chef De Cuisine at the Michelin-Starred restaurant Addison in San Diego.
In 2017, together with Partner and Master Sommelier, Dennis Kelly, Secviar opened Protégé in the heart of the Silicon Valley in Northern California. Within 9 months of opening, the restaurant was awarded one Star by the esteemed Michelin guide and continues to offer New American Cuisine in a casual fine-dining setting.
Anthony Secviar spends his free time with his wife and 3 children, balancing the life of a working chef by being outdoors with his family, skateboarding, boating, dirt-biking and enjoying the redwood forest surrounding his home in Los Gatos, California.