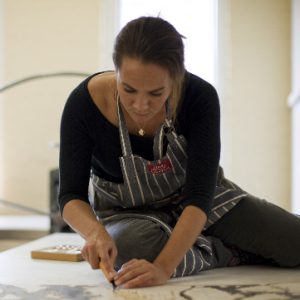 Abigail Romanchak
Maui, HI
Abigail Romanchak's art empowers and asserts a Hawaiian sense of identity and culture.  She believes that native cultures are jeopardized once they stop speaking to people in the present.  As an artist, she seeks to perpetuate Hawaiian culture not through traditional means, but contemporary ones, so that it may endure for generations to come. Romanchak's work reveals an essential alignment between multiple systems of marking and is greatly influenced by the conceptual terrain of human imprint on the natural environment.  Abigail explores the boundaries between marking, claiming and making the unseen and overlooked ultimately visible.
Romanchak's work shows nationally and internationally.  Her work belongs to many public and private collections including, The Smithsonian American Art Museum, The Australia National Museum, The White House, The Hawaii State Foundation on Culture and the Arts, Hawaii State Art Museum, Hanapi Foundation, Jon Hara Associates, Inc. Architects, The Nature Conservancy of Hawaii, Tori Richard, The Four Seasons and Kona Village, Hawaii. Abigail received the Ellen Craig Choy Award, as most outstanding artist, in the 2010 Biennial IX at The Contemporary Museum, Honolulu.  In 2015, Abigail was awarded the Native Arts and Cultures Foundation fellowship. This fellowship made it possible for Abigail to produce a new body of work for a group exhibition,  'Aloha 'Aina' at The Lower Saxony State Museum, Hanover, Germany, Galerie Rash, Kassel, Germany, Linden Museum, Stuttgart, Germany. In 2016 Abigail was a Joan Mitchell Fellowship nominee. Most recently, Abigail is exhibiting a new body of work with the Smithsonian Asia Pacific American Center for 'Ae Kai– A Culture Lab of Convergence. In the Fall of 2017 Abigail exhibited her work in a solo exhibit, Ground with fellow printmaker, Charles Cohan, at The Honolulu Museum of Art.
Abigail Romanchak holds a BFA and MFA in printmaking from the University of Hawaii, Manoa. She has held teaching positions at Punahou School, The Hui No'eau Visual Arts Center, The Maui Arts and Cultural Center, The Contemporary Museum and The Honolulu Museum of Art. In 2007 Abigail moved home to Maui to assist master printmaker, Paul Mullowney at Hui Press. Currently Abigail is producing new bodies of work for upcoming group and solo exhibitions.