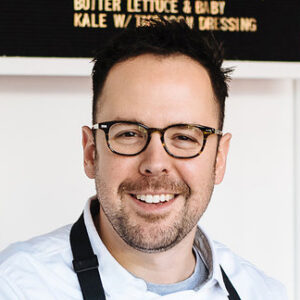 Aaron Silverman
Rose's Luxury, Pineapple & Pearls and Little Pearl - Washington DC
Chef and Restaurateur, Aaron Silverman, opened Rose's Luxury in 2013 in Washington, D.C. The goal was to open a comfortable and innovative neighborhood restaurant. In 2014 Bon Appétit named Rose's the best new restaurant in the country. Raised in Maryland, the oldest of two boys, he attended Northeastern University in Boston, where he graduated with a bachelor's degree in Accounting, Small Business Management and Political Science. In 2004 he graduated from L'Academie de Cuisine with his culinary degree.
Silverman has worked at McCrady's in Charleston, SC and Aldea, Insieme and Momofuku in NYC. He credits his first kitchen gig at 2941 in Falls Church, VA for inspiring him to carve a path in this industry. Pineapple and Pearls opened in 2016 with the intention to offer his team's version of fine dining at night coupled with a neighborhood coffee shop by day. In 2017 the coffee shop relocated to the campus of The Hill Center on Capitol Hill opening as Little Pearl where they host guests at night with prix fixe dinner menu.
In 2016 Silverman was named Best Chef Mid-Atlantic by the James Beard Foundation and Best New Chef by Food & Wine Magazine. Rose's Luxury earned one Michelin star and Pineapple and Pearls earned two Michelin stars in 2017, 2018, 2019, 2020 and 2021. Little Pearl joined the others with one star in 2020 and 2021. In 2018 Pineapple and Pearls was one of eight restaurants in the U.S., Canada, Mexico and the Caribbean to join AAA's list of Five Diamond restaurants.
Rose's Restaurant Group's mission, aside from providing the highest quality food and hospitality for our guests, is to create an environment in which its staff is empowered, respected and provided with benefits that are not typical in the industry.
Silverman supports the World Food Program and Share Our Strength's No Kid Hungry campaign. In 2017, Aaron had the pleasure of speaking in the TED Conference as well as in The New York Times alongside Danny Meyer and José Andrés on the future of restaurants.