Tribute Dinner Honoring Michael Ginor: Foie, Duck & More
Event Time:
Dinner at 6:00 P.M.
Join us to celebrate the life of Michael Ginor, chef and dear friend of the Hawaii Food & Wine Festival, with a tribute dinner that honors his culinary legacy and philanthropic spirit. Having participated in every festival since it began in 2011, Michael became one of Hawaii's greatest ambassadors, who shared the aloha spirit with everyone he met along his journey. Lifelong friends, chefs Vikram Garg, Susur Lee, Lenny Messina and Roy Yamaguchi will be joined by Halekulani Executive Chef, Christian Testa, to prepare an elegant five-course dinner that highlights Michael's signature foie gras and duck!
Each course will feature organic foie gras or Moulard duck from Hudson Valley Foie Gras, Michael's award-winning farm in Ferndale, NY where he revolutionized modern-age foie gras processing. The evening wouldn't be complete without wine pairings from Master Sommelier, Chris Ramelb, to complement each innovative creation reflecting Michael's pursuit of culinary adventure. Plus, we'll share a special look at Episode 4 of HASHI Media's "Taste Our Love for Hawaii" which features Michael's Kalo Journey experience and first place win of the Kalo Recipe Contest last year. Most importantly, all proceeds from the dinner will be donated to the Michael Ginor Scholarship Fund—a perpetual scholarship to provide opportunities for Hawaii's culinary students to stage at Hudson Valley Farm or Restaurant LOLA in New York, and other Hawaii Ag & Culinary Alliance initiatives.
April 7, 2023
Dinner at 6:00 P.M.
Halekulani
Attire: Cocktail Attire, Jacket Optional
MICHAEL GINOR
1963-2022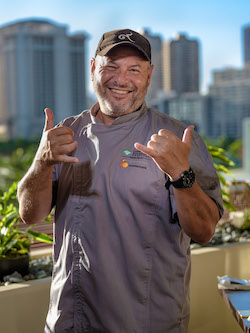 Michael Aeyal Ginor was an award-winning chef, writer, and restaurateur best known for co-founding Hudson Valley Foie Gras and restaurant LOLA, hailed as one of Long Island's best dining experiences, receiving top ratings from the New York Times and Newsday.
Ginor was born in Seattle, Washington to Israeli expatriate parents. Ginor lived in Israel for a period during his youth, though he attended higher education in the United States, receiving his bachelor's degree from Brandeis University before going on to earn a master's degree from New York University. Surprisingly, Ginor did not begin his career in the food world. After a brief stint with David Lerner Associates on Wall Street, Ginor chose to return to Israel to serve in the defense forces. During his time there, he discovered Israeli cuisine, along with the production methods for high-quality foie gras that would shape his future endeavors.
Ginor received the 1996 Award for Excellence from the James Beard Foundation and was honored with the 1997 Angel Award from the James Beard Foundation for dedication, contribution, and foresight. In 1998, Ginor received the "American Master Taster Award" from the American Tasting Institute. In 2011, Ginor was a nominee for Food & Wine magazine's People's Award for Top Ten Chefs in New York and he received Food Art's Silver Spoon Award.
Also a talented writer, Ginor was a food and travel contributor to such publications as Food Arts Magazine, James Beard Magazine, Art Culinaire, Coffee & Cuisine, Singapore's Cuisine Scene and Great Britain's Great Hospitality. His internationally acclaimed cookbook Foie Gras…A Passion is a comprehensive reference book that includes 84 recipes.