HAWAII FOOD & WINE FESTIVAL
Cookbook
COOKBOOK
Taste Our Love for the Land
The Hawaii Food & Wine Festival's overarching theme is "Taste Our Love for the Land." Stretching from mauka (toward the mountain) to makai (toward the sea), the ahupuaa, the ancient Hawaiian land division, is reflected in our logo. In old Hawaii, under the ahupuaa system, everything necessary for survival could be grown, gathered and exchanged locally. At one time Hawaii was 100 percent sustainable; today, we import about 85 percent of what we consume. The Festival's message of love for the land is about bringing sustainability back to our islands. We need to make sure we take care of the land and sea and share with others the important work we are doing.
Of course, the concept of love for our land isn't limited to Hawaii. Agricultural sustainability is an important concern for chefs all over the world, whether they're working with salmon in Seattle or maguro in Tokyo. This book takes us on a culinary journey through the eyes and palates of these chefs who have participated in our Festival over the years. Thirty-one of them have generously contributed recipes and their thoughts and ideas about what "taste our love for the land" means to them—and what they're doing in their communities to promote the notion that we should all care about what happens in our own backyards.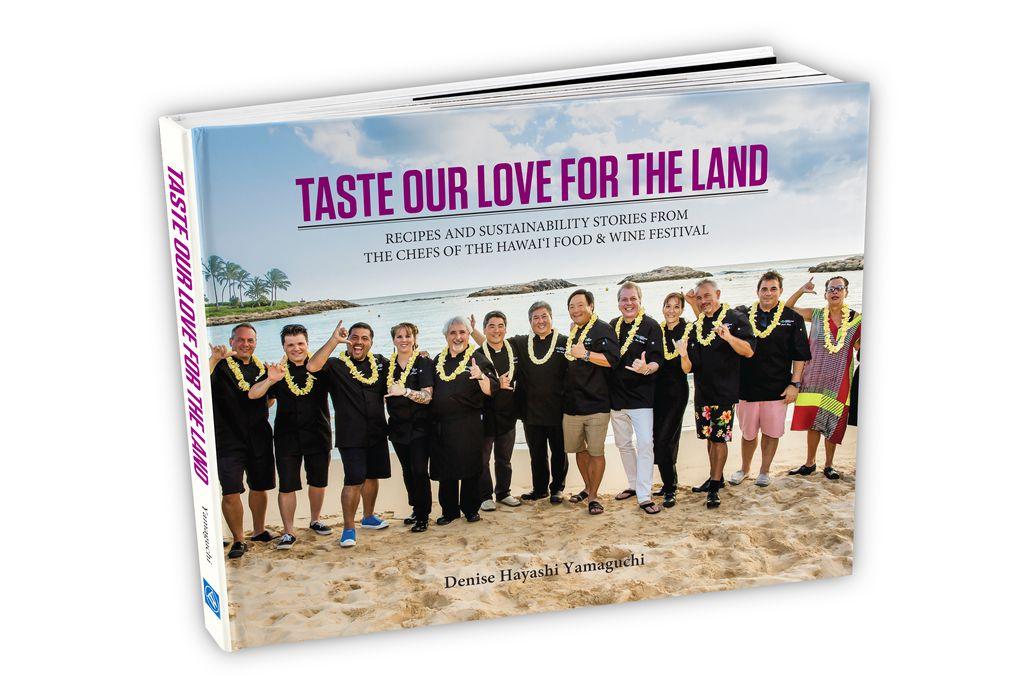 TO PURCHASE
We ship via USPS to all 50 states only. To purchase more than 10 books, please contact us directly at 808-738-6245 or info@hawaiifoodandwinefestival.com
Hawaii Food & Wine Festival recognizes the use of diacritical markings in the modern orthography of Hawaiian language including the 'okina ['] or glottal stop, and the kahakō [ā] or macron. However, in order to ensure the best online experience visitors to our website, these markings may be omitted throughout our site. We thank you for your understanding.